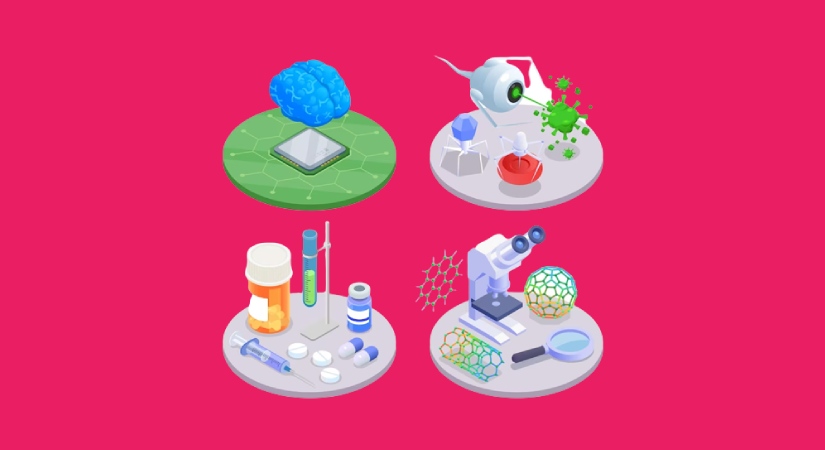 For students embarking on the arduous yet exhilarating research journey, selecting appropriate and compelling research topics within the vast domain of Material Science is a pivotal initial step. Material Science, a discipline at the crossroads of physics, chemistry, engineering, and nanotechnology, delves into the understanding, characterization, and manipulation of materials to engineer novel solutions. This interdisciplinary field offers a fertile ground for exploration, sparking curiosity and driving scientific advancement. Research, the bedrock of progress, unveils the frontiers of knowledge and propels us into the future. The choice of research topics in Material Science can shape the trajectory of one's academic pursuit, determining the depth and breadth of insights gained during an undergraduate, master's, or doctoral thesis.
Material Science, often referred to as materials science, materials research, or materials technology, is an interdisciplinary field that studies materials' properties, structure, design, and applications. It seeks to comprehend the fundamental principles governing the behavior of materials and their interactions at various scales, from atomic and molecular levels to macroscopic structures.
A List Of Potential Research Topics In Material Science:
Synthesizing and characterizing bio-inspired materials for improved adhesion in wet environments.
A critical review of emerging materials for next-generation photovoltaic technologies.
Understanding the advancements in biomaterials for enhanced immune response in post-COVID-19 medical applications.
Exploring the self-assembly of nanoparticles in the creation of advanced materials.
Studying the thermal stability of nanomaterials for high-temperature applications.
Evaluating the durability of self-healing concrete for sustainable infrastructure.
Analyzing the role of Brexit in shaping the UK's approach towards international material science partnerships.
Studying the electrochemical behavior of battery materials for energy storage.
A systematic review of materials for carbon capture and utilization technologies.
Studying the impact resistance of nanocomposite materials for sports equipment.
Analyzing the mechanical and electrical properties of 3D-printed graphene composites.
Designing lightweight composites for the aerospace industry.
Analyzing the electrical conductivity of conducting polymers for flexible electronics.
Assessing the biodegradability of bioplastics in different environmental conditions.
Material and space science: Exploring advanced materials for spacecraft construction and exploration.
A comprehensive review of recent advancements in biomaterials for tissue engineering applications.
Evaluating the potential of 3D printing in rapidly producing medical-grade materials during public health crises.
A comprehensive review of bio-inspired materials and their potential for engineering applications.
Assessing the utilization of recycled materials for sustainable production in a post-COVID-19 world.
Investigating the influence of UK policies on sustainable material choices and practices.
Studying the integration of nanotechnology in UK industries for enhancing material properties and applications.
Investigating the biocompatibility of 3D-printed implant materials for medical applications.
Developing advanced coatings for corrosion protection in marine environments.
Assessing the mechanical properties of bio-inspired materials for robotics.
Evaluating the creep resistance of high-temperature alloys.
Exploring the use of 3D printing in the fabrication of advanced ceramics.
Assessing the biocompatibility of biodegradable scaffolds for tissue engineering.
Analyzing the role of UK-based academic institutions in shaping material science research and development.
Investigating the recyclability and sustainability of polymer composites.
Investigating the use of biomaterials for tissue engineering and regenerative medicine.
Designing lightweight and high-strength materials for automotive components.
Exploring the use of shape memory alloys in intelligent actuators and sensors.
A critical review of intelligent materials and their potential applications in various industries.
Designing high-temperature superconductors for energy transmission and storage.
A systematic review of additive manufacturing techniques for complex geometry components.
Evaluating the impact of Brexit on the UK's material science research and collaborations.
Investigating the role of nanomaterials in designing efficient antiviral surface coatings post-COVID-19.
Characterizing the fracture toughness of composite materials for structural integrity.
Analyzing the mechanical properties of 3D-printed ceramic matrix composites.
Exploring the use of nanomaterials in water purification membranes.
Evaluating the wear resistance of coatings for cutting tools in machining.
Exploring the synthesis of nanomaterials for targeted drug delivery systems.
Analyzing the corrosion behavior of materials used in pandemic-related infrastructure and equipment.
Analyzing the mechanical properties of nanocrystalline materials.
Investigating the influence of surface coatings on biocompatibility of medical implants.
Studying the long-term effects of disinfectants on material properties for prolonged usage in healthcare settings.
Characterizing the thermal conductivity of novel polymers for efficient heat management.
Investigating the electronic properties of 2D heterostructures for semiconductor devices.
Studying the optical properties of quantum dots for advanced photonic applications.
Characterizing the optical properties of photonic crystals for communication technologies.
Studying the tribological properties of lubricant additives for machinery longevity.
Developing eco-friendly bioplastics with enhanced biodegradability.
Assessing the effects of regional variations in the UK on material requirements and innovations.
A comprehensive review of 2D materials and their applications in electronic devices.
Analyzing the mechanical properties of advanced composite materials for aerospace applications.
Evaluating the potential of flexible organic electronics for wearable technology.
Investigating the optical properties of plasmonic nanostructures for sensors.
Material science and political psychology: Understanding the influence of political ideology on material choices in society.
A systematic review of nanomaterials in drug delivery systems for enhanced therapeutic outcomes.
Investigating the role of nanostructured coatings in enhancing corrosion resistance of metals.
Developing environmentally friendly packaging materials with extended shelf life.
Analyzing the magnetic properties of rare-earth magnets for sustainable energy.
Investigating the thermal insulation properties of aerogels.
Investigating the impact of crystal defects on the mechanical behavior of ceramics.
Analyzing the mechanical behavior of carbon nanotube-reinforced composites.
Characterizing the thermal expansion properties of advanced ceramics for aerospace use.
Assessing the contribution of UK-based material science startups in driving innovation and sustainability.
Investigating the synthesis and properties of flexible transparent conductive films.
Developing advanced catalysts for renewable energy conversion.
Investigating the effects of microstructure on the fatigue behavior of high-strength alloys.
Assessing the sustainability of post-pandemic material supply chains and their environmental influence.
Studying the influence of nanotopography on cell behavior for tissue engineering.
Evaluating the electrical conductivity of conductive polymer composites for electronics.
Developing innovative materials for self-repairing structural components.
Investigating the collaboration between UK universities and industries in advancing material science innovations.
Exploring the role of UK-based funding initiatives in promoting material science research and development.
Characterizing the thermal management properties of phase change materials.
Developing sustainable materials for water purification and desalination.
Analyzing the structural and functional modifications in polymers for personal protective equipment (PPE) after the COVID-19 outbreak.
A comprehensive review of materials for wearable and flexible electronics.
In conclusion, Material Science offers many captivating research opportunities across different academic levels. Whether you're an undergraduate seeking to embark on an exploratory journey, a master's student aiming to delve deeper, or a doctoral candidate ready to push the boundaries of knowledge, the right research topic can set you on a path of academic excellence. The key is to choose a topic that resonates with your interests, aligns with your educational goals, and contributes meaningfully to the ever-evolving field of Material Science. Happy researching!