Are you struggling to create a compelling research proposal? Take advantage of our research proposal help to get a proposal that stands out and sets you on the path to success.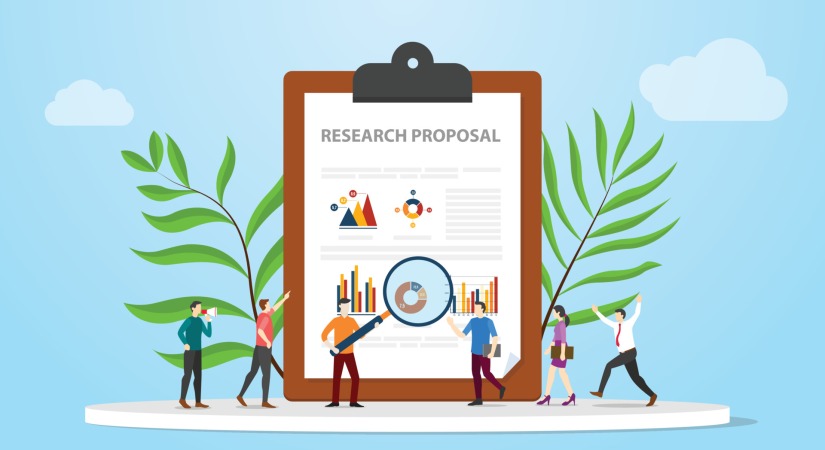 Writing a research proposal for undergraduate, master's, or doctoral studies is a critical step in the academic journey. Seeking online research proposal help provides students with expert guidance, saves time and effort, enhances the quality of proposals, and increases the likelihood of approval. Online services like Dissertation-help.uk provides help with dissertation proposals that can effectively assist students at various academic levels. Whether you are an undergraduate, master's, or doctoral student, leveraging our services can significantly contribute to the success of your research proposal and pave the way for a successful dissertation journey.
Why should you take professional research proposal help online?
Lack of Guidance: Without professional research proposal help, you may struggle with the structure, format, and overall organization of your proposal.
Inadequate Research: Insufficient knowledge of research methodologies and limited access to relevant literature may result in a weak literature review section.
Academic Integrity: Writing a research proposal without professional help increases the risk of unintentional plagiarism. Without proper guidance, you may unknowingly fail to attribute ideas, concepts, or direct quotes to their original sources, leading to potential plagiarism issues.
Plagiarism Consequences: Plagiarism in a research proposal can have severe consequences on your academic and professional reputation. If detected, it can result in academic penalties, such as rejection of the proposal, loss of funding opportunities, or even disciplinary actions.
Incoherent Argumentation: Without expert guidance, you may struggle to articulate a clear and persuasive argument for the significance and feasibility of your research.
Poor Time Management: Without professional assistance, time management can become a challenge, leading to delays in completing and submitting your research proposal.
Limited Feedback: Without external feedback, you may miss out on valuable insights and suggestions for improving your proposal.
– Formatting and Citation Errors: In the absence of professional help, you may encounter difficulties in following proper formatting guidelines and ensuring accurate citations.
Lack of Quality Assurance: Without professional assistance, you may be uncertain about the quality and credibility of your research proposal.
Decreased Approval Chances: Without the guidance of experts, your proposal may lack the necessary elements to impress your academic advisors or review committees.
Overwhelming Workload: Trying to handle the research proposal process alone can increase your stress levels, especially if you are juggling other academic or personal commitments.
Missed Opportunities: Inadequate preparation and subpar proposals may result in missed opportunities for funding, scholarships, or research collaborations.
Proposal aid for Undergraduate Students:
For undergraduate students, writing a research proposal might be their first encounter with formal academic research. They may require assistance in understanding the fundamental elements of a proposal, including problem statement, objectives, methodology, and timeline. Online research proposal help tailored to undergraduates can provide step-by-step guidance, ensuring clarity, coherence, and adherence to academic standards.
Proposal assistance for Masters Students:
Masters students often aim to undertake more extensive and in-depth research projects. Help with dissertation proposals becomes crucial at this stage, as they need to showcase their ability to contribute to the existing body of knowledge. Expert online services can assist in refining research topics, conducting literature reviews, developing robust research questions, and establishing the theoretical framework. Additionally, they can provide guidance on the appropriate research design and data analysis techniques, ensuring the proposal meets the expectations of advanced academic research.
Proposal Help for Doctoral Students:
Doctoral research proposals require a high level of sophistication and originality. Doctoral students often seek help with dissertation proposals to ensure their proposals align with the rigorous standards set by their institutions and review committees. Online research proposal services specializing in doctoral-level assistance can provide valuable support in refining research objectives, identifying research gaps, developing a conceptual framework, and formulating research methodologies. Moreover, they can assist in constructing compelling arguments that justify the significance and feasibility of the proposed research.
Why should you choose us for help in the research proposal?
There are several reasons why you may consider taking online research proposal help:
1. Expert Guidance: Our online research proposal help provides you with access to experienced professionals who are knowledgeable in the field of research. They can guide you through the process, helping you develop a strong and well-structured proposal.
2. Save Time and Effort: Composing a research proposal can be a time-consuming task, requiring extensive research and careful planning. By seeking online help, you can save significant time and effort as experts can assist you in organizing your ideas and providing valuable insights.
3. Enhanced Quality: Our Professional dissertation writing service has experts who specialize in writing research proposals. They are well-versed in academic standards, formatting guidelines, and research methodologies. With their expertise, you can expect a high-quality proposal that meets the requirements and expectations of your academic institution.
4. Customization and Personalization: Our online research proposal help can be tailored to your specific needs. Whether you need assistance with topic selection, proposal structure, literature review, or methodology, the service can be customized to address your unique requirements.
5. Increase Chances of Approval: A well-crafted research proposal significantly increases your chances of approval from your academic advisors or research committee. Online research proposal help can assist you in creating a persuasive and compelling proposal that showcases the significance and feasibility of your research project.
6. No Plagiarism: Professional research proposal help ensures proper citation and referencing of all sources used in the proposal. Experts are well-versed in different citation styles (such as APA, MLA, or Chicago) and can accurately attribute ideas, data, and quotes to their original authors. This meticulous approach helps avoid plagiarism by giving credit to the original sources and demonstrating a commitment to academic integrity.
7. Access to Resources: Our online research proposal help often includes access to a wide range of research databases, academic journals, and reference materials. This ensures that your proposal is backed by relevant and up-to-date sources, strengthening the credibility of your research.
8. Learning Opportunity: Seeking online research proposal help allows you to learn from professionals in your field. You can gain insights into effective research methodologies, literature review techniques, and proposal writing strategies, which can benefit your future academic pursuits.
Remember, while seeking online research proposal help can provide valuable support, it's essential to maintain academic integrity and actively engage in the research process.
Order Your Dissertation Proposal Now!
Still unsure and want to see the example dissertation proposal we have written? Click Here to Fill out the form and a sample will be emailed to you.