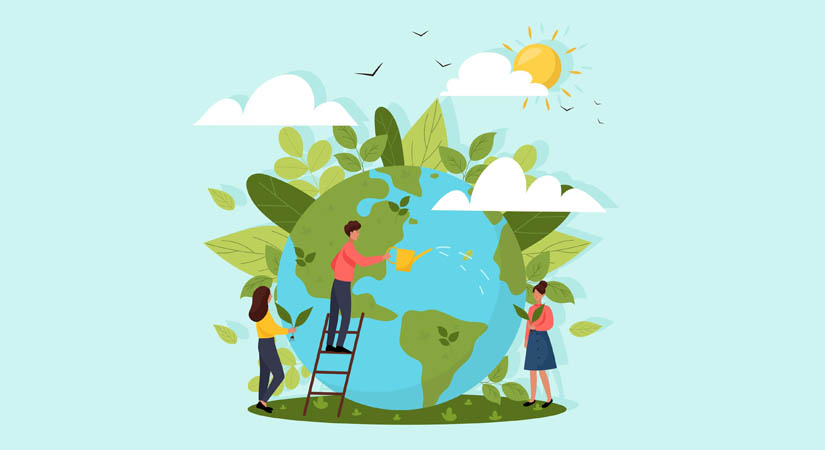 Welcome to Environmental Science, a field that delves into the intricate relationships between humanity and the natural world. This post serves as a gateway to a world of research opportunities, offering an array of diverse and compelling research topics within Environmental Science. From exploring the effects of climate change to understanding ecosystems and sustainable resource management, these topics encapsulate the field's multidisciplinary nature. As you embark on your academic journey, let these topics inspire your curiosity and drive your quest for knowledge and solutions.
Feel free to utilize these research topics as launching points for your thesis, dissertation, or scholarly pursuits. Your contributions to the field have the potential to shape policies, foster innovation, and pave the way for a more sustainable future.
A List Of Potential Research Topics In Environmental Science:
Impacts of Land Use Change on Erosion and Soil Degradation.
Impacts of Mining Activities on Land Degradation and Ecosystems.
Evaluating the Effectiveness of Environmental Policies.
Exploring the Ecological Effects of Urbanization on Wildlife Habitats.
Environmental Impact Assessment of UK Infrastructure Projects.
Biodiversity Hotspots and Conservation Strategies: A Global Perspective.
Microplastic Contamination in UK Water Bodies: Sources, Effects, and Solutions.
Wildlife Trafficking and its Consequences for Biodiversity Conservation.
Conserving Endangered Species: Case Study of the UK Red Squirrel.
E-Waste Management: Challenges and Recycling Innovations.
Enhancing Soil Fertility through Organic Farming Techniques.
Conservation of Keystone Species and Trophic Interactions.
Renewable Energy Transition: UK's Roadmap to Net-Zero Emissions.
Agricultural Runoff and Water Quality: Monitoring and Mitigation.
Impacts of Microplastics on Terrestrial Ecosystems.
Role of Forests in Carbon Sequestration and Climate Change Mitigation.
E-Waste Management and Recycling Initiatives in the UK.
Environmental Impacts of Fracking and Extractive Industries.
Marine Protected Areas: Successes, Challenges, and Future Prospects.
Conservation of Critical Habitats for Migratory Species.
Ecological Restoration of Mining Sites and Reclamation.
Plastic Waste Management and Circular Economy Approaches in the UK.
Impacts of Ocean Plastic Pollution on Marine Ecosystems.
Marine Biodiversity Conservation in Post-COVID Scenarios.
Ecotourism's Role in Promoting Conservation and Community Development.
Renewable Energy Integration in National Grids: Challenges and Solutions.
Green Building Design and Energy Efficiency.
Urban Green Spaces and Mental Health: Exploring the Nature-Human Connection.
Assessing Air Quality Improvements in UK Urban Areas during Lockdowns.
Impacts of Deforestation on Carbon Sequestration and Climate Regulation.
Conservation of Endangered Species and Habitats: Case Studies.
Resilience Building in UK Coastal Areas: Integrating Natural and Engineered Solutions.
Water Scarcity Challenges and Strategies for Sustainable Water Use.
Blue Carbon Ecosystems: Seagrasses, Saltmarshes, and Carbon Sequestration.
Impacts of Industrial Pollution on Aquatic Biodiversity.
Green Technologies for Clean Energy Production.
Green Building Practices and Energy Efficiency in UK Construction.
Water Pollution Remediation Technologies: Case Studies and Innovations.
Impacts of Noise Pollution on Terrestrial Wildlife.
Green Consumer Behavior and Sustainable Lifestyles in the UK.
Monitoring and Restoration of Freshwater Ecosystems.
Ecosystem Services Assessment for Informed Policy Decisions.
Indigenous Knowledge and Practices in Natural Resource Management.
Impacts of Climate Change on Global Food Security.
Blue Carbon Ecosystems: Harnessing the Climate Benefits of Coastal Habitats.
Urban Heat Island Effect and Strategies for Heat Mitigation.
Urban Air Pollution and Health Effects on Vulnerable Populations.
Assessing the Impact of Climate Change on Coastal Erosion Patterns.
Effects of Pollution on Aquatic Organisms and Food Chains.
Restoration of Urban Brownfields for Sustainable Land Use.
Air Quality Monitoring and Public Health Implications in Urban Areas.
Restoring Degraded Ecosystems for Biodiversity Conservation.
Climate Change and Displacement: Socioeconomic Impacts.
Conservation Genetics for Preserving Endangered Species.
Role of Wetlands in Flood Mitigation and Water Purification.
Sustainable Waste Management Practices in Developing Countries.
Exploring Alternative Farming Practices: Hydroponics and Vertical Farming.
Plastic Waste Management Strategies: From Collection to Recycling.
Sustainable Fisheries Management in Small-Scale Fishing Communities.
Impacts of Ocean Acidification on Marine Life and Coral Reefs.
Exploring the Link between Human Health and Ecosystem Health.
Ecosystem-Based Disaster Risk Reduction Strategies.
Role of Mangrove Forests in Coastal Protection and Biodiversity.
Adoption of Renewable Energy in Developing Countries.
Ecosystem Restoration and Climate Resilience in Post-Pandemic Strategies.
Exploring the Benefits of Agroforestry Systems.
Climate Change Communication and Public Perception.
Role of Indigenous Communities in Biodiversity Conservation.
Climate Change Adaptation Strategies for Vulnerable Communities.
Circular Economy Approaches for Waste Reduction.
Remote Sensing Applications in Monitoring Environmental Changes.
Environmental Justice and Vulnerable Communities in UK Urban Settings.
Environmental Education and Awareness: Influencing Sustainable Behaviors.
Carbon Footprint Assessment of Various Industries.
Sustainable Agriculture Practices for Soil Health and Crop Productivity.
Green Infrastructure Development in Urban Planning.
Sustainable Water Resource Management in Arid Regions.
Impact of Light Pollution on Nocturnal Ecosystems in the UK.
Exploring Microplastic Contamination in Aquatic Ecosystems.
Enhancing Water Use Efficiency in Agriculture.
Sustainable Urban Planning for Resilient and Livable Cities.
Harnessing Renewable Energy for Rural Electrification.
Renewable Energy Policies and Their Implementation.
This comprehensive list of research topics encompasses a broad spectrum of themes and challenges within the field of Environmental Science. As you delve into these topics, remember that your contributions have the potential to shape policies, foster innovation, and create a more sustainable and resilient future for our planet. Explore these research topics, let curiosity guide your inquiry, and become a driving force in Environmental Science.