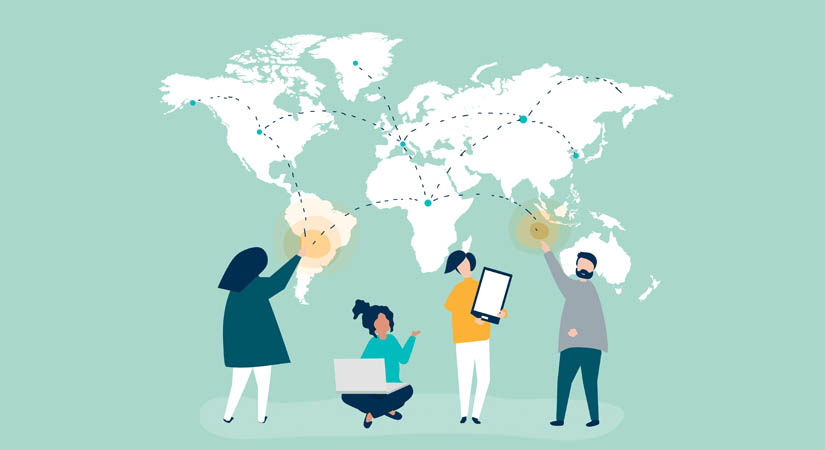 Are you a student searching for intriguing research topics in international marketing? Look no further! We understand that choosing the right research topic is crucial to your academic journey, and we are here to assist you with a comprehensive list of thought-provoking and relevant topics in international marketing.
Whether you are intrigued by the influence of culture on marketing strategies, delving into cross-cultural consumer behaviour, analyzing the challenges of market entry in emerging economies, or fascinated by the evolving landscape of global digital marketing, our list is designed to inspire and guide you towards finding the perfect research topic. So, let's embark on an exciting exploration of international marketing together, uncovering new insights and shedding light on the intricacies of global business and consumer behaviour.
A List Of Potential Research Topics In International Marketing:
The role of digital marketing in promoting UK products and services internationally.
Digital transformation in international marketing: lessons learned from the COVID-19 pandemic.
E-commerce and global market expansion: success factors and challenges.
Digital disruption in international marketing: adaptation and innovation.
Cross-border e-commerce in the UK market: trends, challenges, and opportunities for international marketing.
The role of artificial intelligence in personalized international marketing campaigns.
The influence of cultural factors on UK consumer preferences for global brands.
Cultural adaptation of advertising strategies in international markets.
Global supply chain management and its influence on international marketing.
The influence of cultural values on green marketing initiatives in global markets.
The role of virtual reality and augmented reality in enhancing international marketing experiences.
Branding strategies for global startups: building trust and recognition.
E-commerce acceleration and its effects on global market expansion in the post-COVID era.
Global product localization: balancing standardization and adaptation.
The impact of Brexit on international marketing strategies: a case study of UK-based companies.
Market entry strategies in emerging markets: a critical review of success factors and limitations.
The role of artificial intelligence and machine learning in optimizing international marketing strategies.
Consumer trust and confidence in international brands in the post-COVID world.
Ethical issues in international marketing: a systematic review of research literature.
The impact of COVID-19 on consumer behaviour and its implications for international marketing strategies.
Consumer attitudes towards sustainability and ethical branding in the post-covid world.
Consumer trust in international e-commerce: building and maintaining trust.
Market segmentation and targeting in global markets: approaches and challenges.
Personalization and localization of marketing messages in cross-cultural contexts.
Crisis communication and brand reputation management in the post-COVID global business environment.
The effects of global economic integration on international marketing.
Consumer behaviour in cross-cultural online shopping: a literature review of critical factors.
The effectiveness of celebrity endorsements in international advertising.
Social media engagement and community building in the post-COVID international marketing landscape.
The role of artificial intelligence in international marketing: a review of applications and implications.
The role of emotions in international consumer decision-making.
Ethical considerations in international marketing: addressing cultural differences.
The role of social media in building international brand communities: UK case studies.
Sustainable marketing practices in the post-COVID era: balancing health and environmental concerns.
The effects of UK cultural values on international marketing communication strategies.
The relevance of influencer marketing in a post-covid world: changes and adaptations.
The role of influencers in shaping consumer behaviour in emerging markets.
Health and safety considerations in international tourism marketing post-covid.
The impact of cross-cultural advertising appeals on consumer attitudes and purchase intentions in international marketing.
Building and managing global brand equity: strategies for international marketing success.
International distribution channels: trends and challenges in a digital era.
Digital marketing trends in global markets: a review of recent developments and future directions.
Cross-border mergers and acquisitions: implications for marketing strategies.
Online consumer reviews and their impact on international brand reputation.
The impact of tourism marketing on the UK economy: case studies of destination marketing campaigns.
International branding strategies for luxury products: a comprehensive review of best practices.
Cross-border consumer perceptions of brand trust and authenticity in the post-COVID era.
Sustainable marketing practices of UK companies in international markets.
Internationalization strategies of UK startups: case studies of successful market expansions.
The role of corporate social responsibility in enhancing UK brand reputation internationally.
The impact of influencer marketing on international consumer behaviour.
Cross-cultural advertising appeals in international marketing: an integrative review of approaches.
The role of social media in international marketing campaigns: trends and best practices.
Influencing factors in cross-border e-commerce adoption: a comparative analysis.
International pricing strategies: adaptation and standardization.
International marketing strategies for luxury goods: exclusive vs. Inclusive approaches.
The impact of globalization on consumer perceptions of luxury brands.
Cross-cultural consumer behaviour in the UK market: implications for international marketing.
Market entry strategies of UK firms in emerging markets: lessons and insights.
The role of corporate social responsibility in international branding.
The influence of political factors on international marketing strategies.
The impact of social media influencers on international branding: a review of research findings.
Cross-cultural differences in advertising appeals: insights for international marketers.
The influence of remote work and digital nomadism on international marketing approaches.
The impact of cross-cultural communication on international marketing effectiveness.
Building resilience in international supply chains: strategies and adaptations post-covid.
Market entry strategies for small and medium-sized enterprises (SMEs) in global markets.
International market research methods: advancements and best practices.
Customer relationship management (CRM) in global marketing: strategies and technologies.
International branding strategies of UK companies: case studies of successful global brands.
Sustainability in international marketing: a systematic review of practices and challenges.
The rise of contactless payments and its influence on international marketing strategies.
Brand equity and international brand extensions: success factors and risks.
Using influencer marketing by UK brands in international markets: case studies and effectiveness.
Sustainable marketing strategies in global markets: challenges and opportunities.
Reshaping international advertising: cultural sensitivity and responsiveness post-covid.
Consumer perception of country-of-origin in international branding.
The influence of country-of-origin on consumer perceptions: a review of empirical studies.
Exploring new markets and market entry strategies in a post-covid business landscape.
Reshaping international travel marketing: strategies to encourage confidence and recovery post-covid.
In conclusion, this comprehensive list of international marketing research topics provides many options for students pursuing dissertation research at different degree levels. From exploring the impact of culture on marketing strategies to investigating the role of digital transformation in the post-COVID era, these topics offer a solid foundation for conducting in-depth studies in international marketing. Embarking on a dissertation journey with these research topics as a starting point will undoubtedly pave the way for insightful findings and significant contributions to global marketing.